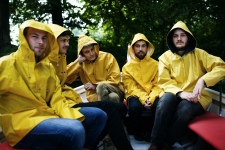 Efterklang – now announced for SPOT and Pop
Revo.

Two of the music festivals of Aarhus are going to expand their collaboration.
As something new this year, it will be possible to buy a combined ticket for both the SPOT Festival and the Pop Revo Festival (Aarhus, the 2nd and 3rd of May). Furthermore, Efterklang is going to play at both events, and on top of that Pop Revo is responsible for bringing a couple of really interesting Swedish acts to this year's SPOT Festival: Anna Järvinen and The Radio Department.
ROSA and SPOT Boss Gunnar Madsen says, "It's important for ROSA's work that it is carried out in collaboration with as many of the innovative environments in Denmark as possible. Therefore, for the SPOT Festival, it is only natural that in addition to a number of partners with whom we have collaborated for a number of years, we are always on the lookout for potential collaboration with new players in the music field."
91 Gigs Abroad
Efterklang is very much en vogue right now. On the 15th of April, after several months on the road and 69 gigs, the band is going to end their current European tour, only to move on to the US to play 22 gigs in May. On top of Efterklang's massive tours, the band's latest album, "Parades", has been critically acclaimed for its innovation and its blend of electronica and awe-inspiring orchestration.
The two Swedish Pop Revo acts at SPOT are Anna Järvinen, who, after the Granada years, now focuses 100 percent on a career as a solo artist with her luscious, melancholic songs in Swedish, and The Radio Department, who champion a distorted indie-like rock sound.
Starting on Monday 31st of March, the combined ticket for the two festivals can be purchased on http://www.gaffabillet.dk/. The price of a ticket is going to be DKK 600 (+ fee). There are only 50 combined tickets for sale.